Our Solution
Produced through the ELIOS 4500 Injection Molding Machine, the thin-walled 150ml IML yogurt cup (6.4 g) made of a certified renewable PP polymer by SABIC®, highlights the importance of human and environmental health. The material is based on tall oil, a waste product from paper production.
The powerful and energy efficient NETSTAL injection molding machine compensates for the slightly thicker label in the injection molding process with a correspondingly thinner wall thickness of the cup. Wall thickness of the 5.4 g cup without label measures only 0.32 mm. This high-performance application runs with a fast 3,9 s cycle time.
The new Xp nozzle Series from Oerlikon HRSflow, specifically engineered for thin wall packaging, ensures a reliable process and an increased productivity at the lowest cost per unit. The result is a low thickness component (0.4 mm) injected with ambitious cycle times and decorated with a new generation label: the NextCycle IML™ from MCC Verstraete.
The NextCycle IML labels allow that a fully decorated PP IML package can be recycled without any impact of the label on the RPP material. These labels will also feature digital watermarks from the Holy Grail 2.0 initiative.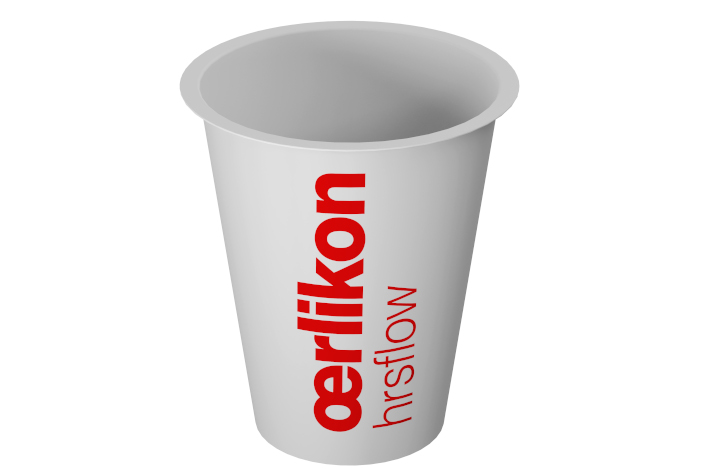 Oerlikon HRSflow system
Hot runner system: 8 drops system Xp series, Cylindrical Valve gate.
Project partners: Netstal, IML Solutions, MCC Verstraete, Sabic, Oerlikon HRSflow.